Candidates for the Communicator of Achievement award are nominated by NPW members for exceptional achievement in the communications field, service to NPW/NFPW, and service to their communities. The COA award is the highest honor bestowed by NPW.
Bette Pore Named 2016 NPW Communicator of Achievement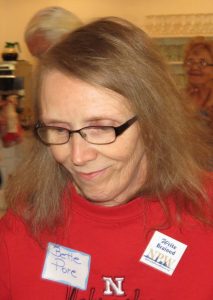 Bette Pore, a senior editor and columnist for the Grand Island Independent, was named 2016 Communicator of Achievement during Nebraska Press Women's (NPW's) recent fall conference.
Pore was honored for contributions to the state affiliate, national organization and her community. She has held nearly every NPW office, including secretary, communications contest chair, high school contest chair, vice president and Hall of Fame director. She has served as president of both the Nebraska and South Dakota affiliates and was part of the NPW committee that planned the 2011 National Federation of Press Women (NFPW) convention held in Omaha and Council Bluffs, Iowa. She frequently volunteers to write stories for the NPW newsletter and is a perennial winner in the NPW and NFPW Communications contests.
Pore is a native of the Sac City, Iowa, area where she grew up on a crop and dairy farm.  She earned a degree in journalism from Northwest Missouri State University in Maryville, Mo., and during her career has worked at newspapers as reporter and editor in Missouri, Iowa, North Dakota, South Dakota and Nebraska.
She has been with the Grand Island Independent since 2002 as an editor and is now the paper's senior editor. She writes a weekly column called "Moved by Movies," which often compares new releases to classic favorites.
Pore will represent Nebraska at the NFPW Woman of Achievement competition set for September 2017 in Birmingham, Ala.
Some Past NPW Communicators of Achievement
Below are some former NPW COA recipients: back from left, Judy Nelson, Glennis Nagel, Ruth Brown, Martha Stoddard, Cheryl Alberts Irwin, Mary Pat Finn-Hoag; front row from left, Lori Potter, Joan Burney, Stephanie Geery-Zink, Terri Hahn, and Barb Batie at the 2011 NFPW convention after Terri was named runner-up to the national COA.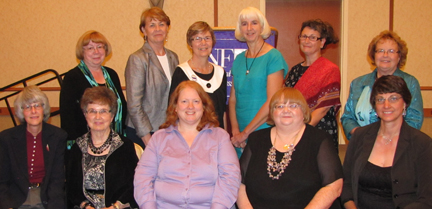 Past State Achievement Award Recipients
2015 Lori Potter, Kearney
2014 Ruth Raymond Thone, Lincoln
2013 Mary Pierce, Ogallala
2012 Sherry Thompson, Omaha
2011 Stephanie Geery-Zink, Lincoln
2010 Terri Hahn, Grand island
2009 Martha Stoddard, Lincoln
2008 Barb Micek, Fullerton
2007 Dr. Ruth Brown, Lexington
2006 Cheryl Alberts Irwin, Lincoln
2005 Glennis Nagel, Kearney
2004 Dorothy Fryer, Norfolk
2003 Barb Batie, Lexington
2002 Marianne Beel, Valentine
2001 Mary Pat Finn-Hoag, Norfolk
2000 Mary Bargman Crawford, Alliance
1998 Andrea Cranford, Lincoln
1997 Sue Fitzgerald, Lexington
1996 Gwen Lindberg, West Point
1995 Lori Potter, Kearney
1994 Evelyn Aufdenkamp, Clay Center
1993 Karen Stansbery, Brule
1992 Joan Burney, Hartington
1991 Mary Ann (Koch) Blackledge, North Platte
1990 Jill Claflin, Lexington
1989 Vicki Miller, Lincoln
1988 Judy Johnson, West Point
1987 Marj Marlette, Lincoln
1986 Judy Nelson, Lincoln
1984 Lois Lambley, North Bend
1982 Dr. Wilma Crumley, Lincoln
1981 Joan Burney, Hartington
1980 Marianne Beel, Valentine
1979 Lilly Frels, Hershey
1978 Lilas Thomas, Ogallala
1967 Helen Green, Fairbury
1961 Velma Price, Newman Grove
1958 Norma Carpenter, Lincoln
National Communicators of Achievement from Nebraska
1993 Joan Burney, Hartington
1985 Lois Lambley, North Bend