Candidates for the Communicator of Achievement award are nominated by NPW members for exceptional achievement in the communications field, service to NPW/NFPW, and service to their communities. The COA award is the highest honor bestowed by NPW.
LuAnn Schindler Named National Communicator of Achievement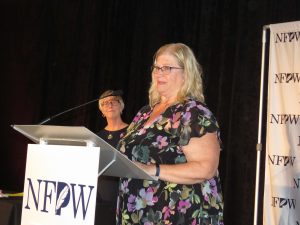 LuAnn Schindler was named NFPW's National Communicator of Achievement at the organization's conference in Fargo, ND, in June. The Communicator of Achievement award is the highest honor bestowed by NFPW upon those members who have distinguished themselves within and beyond their field. The recipient, chosen from nominees selected by state affiliates from around the country, is recognized for exceptional achievement in the communications field, as well as service to NFPW, the affiliate organization and the community.  Read more.
Schindler Is NPW 2021 Communicator of Achievement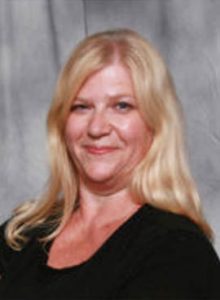 The publisher of one of the state's newest weekly newspapers was named the Nebraska Press Women (NPW) Communicator of Achievement (COA).
LuAnn Schindler, who publishes the Summerland Advocate Messenger in northeast Nebraska, received the award at the group's fall conference in Grand Island.
The COA Award is the highest honor bestowed upon an NPW member. It recognizes achievement in the communications profession, service to the community and industry, and leadership in the organization.
A native of Clay Center, Schindler got hooked on journalism at her high school career day. She then earned an education degree in journalism, English and communication arts at Hastings College, and did post-graduate work at Northwestern University.
Schindler taught high school at St. Mary's in O'Neill and then at Lutheran High School Northeast in Norfolk before becoming managing editor at the Clearwater Record-Ewing News. All of this time she was also employed as a regional correspondent for the Norfolk Daily News and wrote for an online magazine.
In 2019, Schindler launched the Summerland Advocate Messenger, a printed weekly newspaper that is also delivered on the web and through Facebook, Instagram and Twitter. It covers Clearwater, Ewing, Orchard, Page and Royal. LuAnn Schindler and her husband, Scott, also founded ColdType, the parent company, that provides commercial printing and graphic design services.
A member of NPW for seven years, Schindler served on its board of directors for five years, editing the newsletter and assisting with the high school communications contest. In addition, Schindler won numerous awards in the NPW and National Federation of Press Women (NFPW) communications contests as well as in the Nebraska Press Association's Better Newspaper contest.
Schindler will represent Nebraska at the 2022 NFPW COA competition this June in Fargo, ND.
Some Past NPW Communicators of Achievement
Below are some former NPW COA recipients: back from left, Judy Nelson, Glennis Nagel, Ruth Brown, Martha Stoddard, Cheryl Alberts Irwin, Mary Pat Finn-Hoag; front row from left, Lori Potter, Joan Burney, Stephanie Geery-Zink, Terri Hahn, and Barb Batie at the 2011 NFPW convention after Terri was named runner-up to the national COA.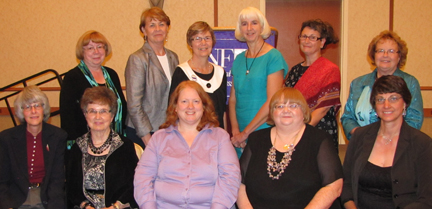 Past State Achievement Award Recipients
2021 LuAnn Schindler, Clearwater
2020 Mary Jane Skala, Kearney
2019 Jill Claflin, Cozad
2018 Eileen Wirth, Omaha
2017 Judy Nelson, Lincoln
2016 Bette Pore, Grand Island
2015 Lori Potter, Kearney
2014 Ruth Raymond Thone, Lincoln
2013 Mary Pierce, Ogallala
2012 Sherry Thompson, Omaha
2011 Stephanie Geery-Zink, Lincoln
2010 Terri Hahn, Grand island
2009 Martha Stoddard, Lincoln
2008 Barb Micek, Fullerton
2007 Dr. Ruth Brown, Lexington
2006 Cheryl Alberts Irwin, Lincoln
2005 Glennis Nagel, Kearney
2004 Dorothy Fryer, Norfolk
2003 Barb Batie, Lexington
2002 Marianne Beel, Valentine
2001 Mary Pat Finn-Hoag, Norfolk
2000 Mary Bargman Crawford, Alliance
1998 Andrea Cranford, Lincoln
1997 Sue Fitzgerald, Lexington
1996 Gwen Lindberg, West Point
1995 Lori Potter, Kearney
1994 Evelyn Aufdenkamp, Clay Center
1993 Karen Stansbery, Brule
1992 Joan Burney, Hartington
1991 Mary Ann (Koch) Blackledge, North Platte
1990 Jill Claflin, Lexington
1989 Vicki Miller, Lincoln
1988 Judy Johnson, West Point
1987 Marj Marlette, Lincoln
1986 Judy Nelson, Lincoln
1984 Lois Lambley, North Bend
1982 Dr. Wilma Crumley, Lincoln
1981 Joan Burney, Hartington
1980 Marianne Beel, Valentine
1979 Lilly Frels, Hershey
1978 Lilas Thomas, Ogallala
1967 Helen Green, Fairbury
1961 Velma Price, Newman Grove
1958 Norma Carpenter, Lincoln
National Communicators of Achievement from Nebraska
2022 LuAnn Schindler, Clearwater
2019 Eileen Wirth, Omaha
1993 Joan Burney, Hartington
1985 Lois Lambley, North Bend