This $500 scholarship is dedicated to the memory of long-time NPW member Marianne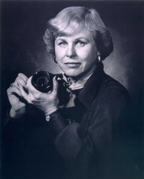 Beel of Valentine. Marianne loved the Sandhills and shared that love through her writing and photography. Her column "Sand in My Shoes" was much beloved by readers of the North Platte Telegraph. Over the years, her writing and photography appeared there and in numerous other publications. She was inducted posthumously into the Nebraska Sandhills Cowboy Hall of Fame in 2009 for her coverage of and work with the Nebraska High School Rodeo Association.
The Marianne Beel Memorial Scholarship is open to high school seniors who have a heart for photography, writing, videography or who keep a strong social media/online presence for their school publication, volunteer organization or employer. Students should both hope to pursue an education in communications or a related field and enjoy showcasing Nebraska through their work. Students in the Sandhills are given special preference, though the scholarship is open to applicants statewide.
To be considered for the Marianne Beel Scholarship, an applicant must:
Be a 2020 graduating senior from a Nebraska high school.
Be a writer, photographer, videographer or social media professional in the general category of rural Nebraska, with preference given to Sandhills subject matter.
Seek a post-secondary degree or certificate (not necessarily four-year) preferably in a communications-related field.
Submit three samples of subject-related work in any combination of writing, photography, video or social media posts/blogs.
Complete the application form.
Write a 250-word essay on what living in Nebraska means to them, the beauty of Nebraska, the value of rural Nebraska, or the value of agriculture in Nebraska.
Submit a copy of their high school transcript with current GPA.
Submit one letter of reference and a resume.
Include a 250-word essay on one of four topics listed on the application form.
The application deadline is March 28, 2020, and all applications must be submitted by email. Please download the following documents for additional  scholarship details.
Download 2020 scholarship details and the 2020 scholarship application.
Questions may be directed to the NPW Scholarship Chair listed on the contact page.
2019 Recipient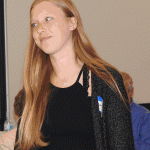 Jenna Ebbers is a Cambridge High School graduate. Throughout high school she was active in her school news­paper, The Trojan Tribune, including serving as  editor in chief. In addition to journalism, she participated in FBLA, FCCLA, yearbook, student council, National Honor Society, bas­ketball, volleyball, and musical.
Jenna is a freshman at the University of Nebraska-Lincoln, where she is majoring in journalism.
Previous Recipients
2018: Amanda Payne of Dunning, a 2018 graduate of Sandhills High School, plans to take online classes through Central Community College before earning a bachelor's degree in English. During her high school junior year, Amanda was a student reporter for the Custer County Chief, where she networked and learned journalism skills and lessons.
2017: Abigail Moody, a 2017 graduate of Moody Christian Academy, attends Northwestern College in Orange City, Iowa, where she plans to  major in theater and minor in business. The Burwell native loves theater. She is extensively involved with photography and as a technical assistant for Cedar Creek Bible Church in Burwell. While judging her scholarship essay about the meaning of living in rural Nebraska, a longtime professional writer noted Moody's writing mirrors that of Marianne Beel, longtime Sandhills columnist for whom the scholarship is named.
2016:  Morgan Wallace, a 2016 graduate of Gering High School.  She was feature editor of her high school newspaper during her junior year and editor-in-chief for her senior year. She also got an early start on her professional career, working as a part-time reporter and photographer for the Gering Courier for two years. Her school activities included membership in the Quill and Scroll Honor Society, DECA and the Gering Girls Activities Association. She is a two-year varsity soccer letter-award winner.
2015: Morgan Peterson, a graduate of Arthur County High School. She worked on her school's yearbook, taking sports, candid and class photos, and then editing them for publication. Peterson also was active in 4-H, Future Farmers of America and the Arthur Rodeo Club and did a variety of volunteer work in the community. In addition to working on her family's ranch, she also has worked on area ranches and trained horses for others for the past four years. Peterson planned to attend Laramie County Community College in Cheyenne.
2014: Jessica Thiele of Atkinson graduated from West Holt Public Schools. In addition to compiling a top academic record in high school, Thiele also was active in community volunteer activities, including serving as a board member for the Sturdevant-McKee Museum, as a member of her church worship team and Vacation Bible School teacher, and as a participant in school peer groups' community-service projects. She also did disaster-response relief work in Mississippi and Haiti. She planned to attend Chadron State College and pursue a degree in communications.
2013: Miranda Wieczorek, a graduate of Grand Island High School, was co-editor of the newspaper, editor-in-chief of the yearbook and did live video streaming of sports. She also volunteered at the Grand Island Independent, won an NSAA State Journalism championship in sports photography and placed in the NPW high school contest. She planned to attend Chadron State College and major in secondary education with a minor in journalism.
2012: Anlan Cheney, a graduate of Cody-Kilgore High School, editor of its school newspaper, and state journalism medalist, planned to attend Oklahoma Wesleyan University in Bartlesville, Okla., and major in communication arts and social sciences.
2011: Allison Booras, a Norfolk High School graduate and Norfolk Daily News photo contest winner, planned to attend Wayne State College and major in advertising.
2010: Courtney Baum, a graduate of Mullen High School, was selected as the first recipient of the Marianne Beel Memorial Scholarship. In high school she provided photos to the local newspaper, worked on the school yearbook, and took senior pictures for some of the students. She chose to attend a photography school in Nashville, Tenn., to pursue her passion.