Fall Conference Focuses on Freelancing and Creating Award-winning Work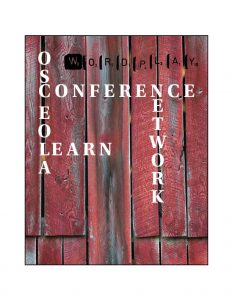 NPW's fall conference on Sept. 30 in Osceola, Neb., features the expertise and achievements of members. NPW Professional Development Director Jill Claflin has organized two panel discussions, one focusing on freelancing, the other on the creating award-winning contest entries for the communications contest.
The conference, which will be held in the St. Vincent Ferrer Catholic Church parish hall, also includes the Communicator of Achievement luncheon.
The morning session will focus on "The Nuts and Bolts of Freelancing." Several members depend on freelancing for full or supplemental income, and three of them will share tips on how to get started and how to grow a freelance business. They will be joined on the panel by Osceola native Terry Anderson, news editor for agricultural publications produced by Plaindealer Publishing. In that role, he hires freelancers and will share from that perspective.
The afternoon panel session, "How They Did It: Contest Winners Give Us the Inside Scoop," will feature four winners from the 2016 Communications Contest sharing the stories of how their winning entries came about. The NPW contest director will also review the guidelines for entry and offer tips to make sure the entry process is a smooth one.
Both discussions will include time for questions from the audience.
The NPW board meeting is at 6 p.m. Sept. 29 at Chances R, 124 W. Fifth, York.
The Saturday, Sept. 30, conference is at St. Vincent Ferrer Catholic Church, 751 Nance St., Osceola. The schedule includes:
8:30 to 9 a.m. – Registration and continental breakfast
9 to 10 a.m. – NPW membership meeting
10:15 to 11:45 a.m. – "The Nuts and Bolts of Freelancing" panel discussion
Noon to 1:30 p.m. – Communicator of Achievement Luncheon. Also includes speaker Tasha Walker, president of the Osceola Community Action Group, and recognition of NFPW contest winners.
1:45 to 3:15 p.m. – "How They Did It: Contest Winners Give Us the Inside Scoop" panel discussion
NPW's board will meet Friday, Sept. 29, at 6 p.m. at Chances R in York. A block of hotel rooms has been reserved at the New Victorian Inn in York. To reserve a room, call 402-362-1686 by Sept. 26 and ask for the Nebraska Press Women rate.
Check out the Fall 2017 newsletter to learn more about the conference. Registration for the conference closed Sept. 25.
New Omaha World-Herald Executive Editor Headlines Spring 2017 Conference
"Striking the Balance" was the theme for the Nebraska Press Women's spring conference April 29 in North Platte. We'll be talking about work-life balance and about balancing the "post it now" demands of social media with the need to produce well-written, error-free copy. Our speakers will be Melissa Matczak and Gerri Berendzen.
Matczak, the first female executive editor of The Omaha World-Herald, talked about how she has balanced her career with raising a family of three daughters. She also led a session on online news, including social media. Matczak joined the World-Herald in 1997 as a reporter and became an assignment editor in 2001. She served as features editor, assistant managing editor and managing editor before being named executive editor in January 2017.
Berendzen led a session on the need to produce well-written, error-free copy.
Berendzen is the editorial adviser for the University Daily Kansan and teaches at the KU School of Journalism and Mass Communication. She is a national board member of the American Copy Editors Society. Her background includes working at newspapers for 32 years, as a visiting news editor at the Columbia Missourian and a visiting assistant professor of copy editing at the University of Missouri School of Journalism.
Special thanks to our conference sponsors:  Mid-Plains Community College and BH Media Group.
Fall Conference Features Outdoor Workshops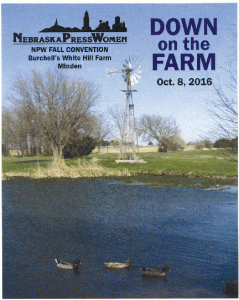 The celebration for Nebraska Press Women's 70th anniversary continued during the Oct. 8, 2016, fall convention.
The "Down on the Farm" event featured jeans and boots, outdoor workshops focusing on polishing the sense of place in your writing and photography, and lunch built around beef brisket and chicken from a smoker next door to the restaurant in a converted barn.
The conference was held at Burchell's White Hill Farm northwest of Minden.
The day also included a general membership meeting and announcement of the 2016 NPW Communicator of Achievement award winner.
Professional development workshops included:
Researching and writing biographies panel with Jan Thompson of Overton, Carol Lomicky of Kearney and Todd VonKampen of North Platte.
A Sense of Place writing workshop – Judy Nelson of Lincoln.
Outdoor workshops on writing and photography with Judy Nelson (writing) and Lori Potter (photography).
Former Chicago Tribune Managing Editor Headlines 2016 Spring Conference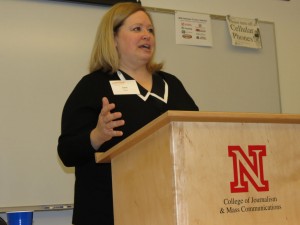 Former Chicago Tribune managing editor Jane Hirt was the keynote speaker at the NPW's spring convention on April 23, 2016, in Lincoln. A 25-year veteran of the news media industry, Hirt embodies the NPW's 70th anniversary convention theme of "Embracing the Future, Respecting the Past."
The UNL journalism graduate was called a "charismatic leader who could make change happen" by Gerry Kern, the Chicago Tribune editor who recognized her abilities and tapped her for managing editor/vice president of the Tribune in 2008, a position she held until Nov. 24, 2014, when she stepped down to pursue personal interests.
The NPW spring convention also featured:
• a workshop on using social media for reporting, for community involvement and for promotion,  presented by Michelle Carr Hassler, assistant professor of practice at the UNL College of Journalism & Mass Communications (CoJMC)
• an update on the current state of journalism education by UNL CoJMC's dean, Dr. Maria Marron
• a preview of CoJMC Professor Joe Starita's book (due out in November) on Nebraska's Susan LaFlesche Picotte, the first Native American female physician
• induction of the 2016 honorees into the Nebraska Women Journalists Hall of Fame, and a tour of the hall
• announcement of the state communications contest winners.
Many Thanks to our Sponsors: UNL College of Journalism and Mass Communications, Nebraska Press Association, Nebraska Broadcasters Association, Nebraska Lottery, Firespring, BH Media (Omaha World-Herald), Lincoln Journal-Star, and Nebraska Farm Bureau.
Recent Convention Locations
Spring
Fall
2017
2016
2015
2014
2013
2012
2011
2010
2009
2008
2007
2006
2005
2004
2003
2002
2001
2000
1999
1998
1997
1996
1995
1994
North Platte
Lincoln
Lexington
Ogallala
Omaha
Peru State College
Halsey
Lincoln
Council Bluffs, IA
Norfolk
Mahoney State Park
Lincoln
Broken Bow
West Point
Valentine
Council Bluffs
Ogallala
Beatrice
North Platte
Lincoln
Chadron
Grand Island
Norfolk
Kearney
Osceola
Minden
Genoa
York
Lincoln
Grand Island
Omaha/Council Bluffs
Red Cloud
Gothenburg
Central City
Kearney
North Platte
Hastings
Lincoln
Lexington
Minden
Aurora
Kearney
Columbus
Red Cloud
Cozad
Nebraska City
Valentine
Lincoln