Non-profit Media Is Focus of Spring Conference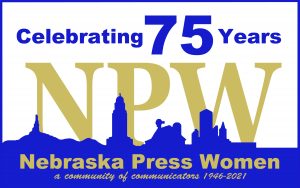 What is the future for the newspaper industry as corporate ownership becomes the norm, resulting in drastic cuts in newsroom staffs, including journalists with decades of experience?
How will Nebraskans get local, regional and state news? Is it time for a new business model that puts decision making back in the hands of professional journalists who are dedicated to providing information and telling stories readers want and need to know?
Those are some of the topics sure to be raised at the 2022 Nebraska Press Women Spring Conference April 23 at the Best Western Plus motel on the south side of the Interstate 80 exit at York. The morning workshop will focus on two new non-profit media in Nebraska. Panelists will be Flatwater Free Press Executive Editor Matthew Wynn and Nebraska Examiner Editor-in-Chief Cate Folsom.
Outstanding journalists, past, present and future, will be recognized at an awards lunch. Attendees will meet High School Contest winners who attend, learn about the 2022 inductees into the Marian Andersen Nebraska Women Journalists Hall of Fame, and celebrate winners in the NPW Professional Journalism Contest.
The afternoon program will feature a panel of experienced editors sharing tips for "Keeping Editors Happy." While editors' happiness certainly is not the first (or second or third) goal most writers have, it's a sometimes essential one for job satisfaction, and even retention in these uncertain and competitive times. 
The editors will be from both newsroom and public relations backgrounds, and will provide ideas relevant to full-time staffers and freelancers alike. Each panelist will share her own top recommendation. 
The conference will conclude by 4 p.m. A block of rooms is being held at the Best Western Plus for NPW until March 22. Call 402-362-6661 to make a reservation and mention the NPW block. Other lodging accommodations are also available in York.
Schedule – Saturday, April 23
8:30 a.m. – NPW Membership Meeting
10 a.m. – The Nonprofit News Movement Comes to Nebraska
Noon – Awards and Recognition Luncheon featuring Flatwater Free Press and Nebraska Examiner editors
2:30 p.m. – Keeping Editors Happy panel
Registration for the conference is now closed.

Fall 2021
Nebraska Press Women celebrated its 75th anniversary during its Fall Conference October 9 in Grand Island with the theme 75 Years of Truth Telling. Keynote speaker was Sherri Burr, attorney, educator, TV arts program producer, newspaper columnist, travel writer and Pulitzer Prize-nominated author. She also is New Mexico Press Women president and the 2021 National Federation of Press Women Communicator of Achievement.
Burr's topic for the evening banquet was "The Story Behind the Book." She talked about her book, "Complicated Lives: Free Blacks in Virginia, 1691-1865." Published in 2019, it was nominated for a Pulitzer in the history category.
Her morning presentation was on "The Illusion of Control in the Digital Era."
Spring 2021 
The virtual event featured a photography workshop by Scott Umstattd, a travel and documentary photographer with more than 30 years of experience shooting around the globe.
In addition to continuing his own photography endeavors, he is a presenter at photography workshops and is the author of "Fighting the Evils of Darkness: A Low Light Photography Survival Guide," which was his focus for the Nebraska Press Women presentation. He also has written hundreds of informative articles on his photography blog, What Makes a Picture Powerful at picture-power.com.
Fall 2020
Held virtually via Zoom, the program focus was "Newspaper Start-ups."  Gothenburg Leader General Manager Rebecca Steward and LuAnn Schindler of Clearwater, publisher and co-owner with her husband, Scott, of The Summerland Advocate-Messenger, talked about their newspapers, how and why they decided to create startups, and the difficulties and rewards of doing so.
Fall 2019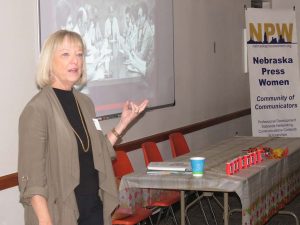 Kristin Gilger, co-author of the book "There's No Crying in Newsrooms: What Women Have Learned about What It Takes to Lead," was keynote speaker for NPW's fall conference on Oct. 12, in Fremont.  Gilger, the Cronkite School's senior associate dean at Arizona State University and a UNL alum, talked about her book and lead a conversation about the challenges and opportunities for women in leadership.
A panel discussion, "When Disaster Strikes, Nebraska Strikes Back," focused on the media's response to flooding earlier this year. Panelists were Erin Grace, Omaha World-Herald columnist; Rose Ann Shannon, retired news director of KETV; and Tammy Real-McKeighan, news editor of the Fremont Tribune.
Spring 2019
NPW's 2019 Spring Conference April 26 and 27 in Broken Bow featured a field trip to a ranch north of Broken Bow to see the giant wind turbines on the pasture hills. Matthew Haumont described the pros and cons of the wind farm project for his family, one of the first ranch families to approve land leases for turbine construction.
The keynote workshop by Laurinda Weisse, an assistant professor in Calvin T. Ryan Library at the University of Nebraska at Kearney, focused on digital filing system options for photographers, self-employed freelancers and others.
Fall 2018 
"Recording Memories:  Writing and Rewinding History" was the theme for NPW's Fall Conference held Oct. 6, 2018, in Neligh. The morning session focused on historic writing, with author Marie Krohn, a Neligh native.  A former teacher, Krohn left the classroom after 17 years and em­barked on a writing career. Gloria Christiansen, a former educator from the Clearwater and Neligh areas, provided an overview of The Rural School Project. Christiansen spearheads a local committee which secured a former country school, moved it 10 miles to Neligh and is in the process of renovating it, as part of the Antelope County Museum complex. NPW member and History Nebraska board member Eileen Wirth spoke on "History Nebraska: Building Our Future on Our Past."
Read an overview of the conference in the Winter 2018 Newsletter.
Spring 2018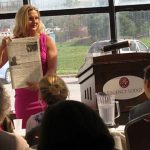 Paula Lavigne, an ESPN investigative reporter working primarily for the Outside the Lines brand on television and online, was keynote speaker for NPW's spring conference May 5, 2018,  in Omaha. Lavigne is also co-author of the book "Violated: Exposing Rape at Baylor University Amid College Football's Sexual Assault Crisis." She is a specialist in data journalism and statistics and also trains colleagues on databases and investigative reporting techniques. She has degrees from the University of Nebraska-Lincoln and Creighton University.
Lavigne presented a workshop on "Navigating 'Multi' Media: Setting Yourself Apart" where she talked about how in today's market there's an expectation for journalists to be flexible and skilled in different types of media – digital, print, radio, TV, social media, etc. — and what you can do to set yourself apart at both specializing and broadening your skill set.
Read an overview of the conference in the Summer 2018 Newsletter
Fall 2017 
NPW's fall conference on Sept. 30, 2018, in Osceola, Neb., featured the expertise and achievements of members. NPW Professional Development Director Jill Claflin organized two panel discussions, one focusing on freelancing, the other on the creating award-winning contest entries for the communications contest.
Read an overview of the conference sessions in the Winter 2017 Newsletter.
Spring 2017 
"Striking the Balance" was the theme for the Nebraska Press Women's spring conference April 29 in North Platte. Topics were work-life balance and balancing the "post it now" demands of social media with the need to produce well-written, error-free copy. 
Melissa Matczak, the first female executive editor of The Omaha World-Herald, talked about how she has balanced her career with raising a family of three daughters. She also led a session on online news, including social media. Matczak joined the World-Herald in 1997 as a reporter and became an assignment editor in 2001. She served as features editor, assistant managing editor and managing editor before being named executive editor in January 2017.
Fall 2016
The celebration for Nebraska Press Women's 70th anniversary continued during the Oct. 8, 2016, fall convention. The "Down on the Farm" event featured jeans and boots, outdoor workshops focusing on polishing the sense of place in your writing and photography, and lunch built around beef brisket and chicken from a smoker next door to the restaurant in a converted barn. The conference was held at Burchell's White Hill Farm northwest of Minden.
Spring 2016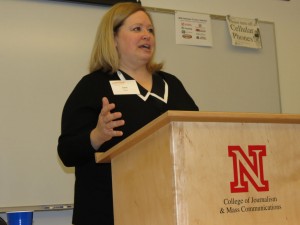 Former Chicago Tribune managing editor Jane Hirt was the keynote speaker at the NPW's spring convention on April 23, 2016, in Lincoln. A 25-year veteran of the news media industry, Hirt embodies the NPW's 70th anniversary convention theme of "Embracing the Future, Respecting the Past."
The UNL journalism graduate was called a "charismatic leader who could make change happen" by Gerry Kern, the Chicago Tribune editor who recognized her abilities and tapped her for managing editor/vice president of the Tribune in 2008, a position she held until Nov. 24, 2014, when she stepped down to pursue personal interests.
Past Convention Locations
 
Spring
Fall
2021
2020
2019
2018
2017
2016
2015
2014
2013
2012
2011
2010
2009
2008
2007
2006
2005
2004
2003
2002
2001
2000
1999
1998
1997
1996
1995
1994
Virtual
Conference canceled
Broken Bow
Omaha
North Platte
Lincoln
Lexington
Ogallala
Omaha
Peru State College
Halsey
Lincoln
Council Bluffs, IA
Norfolk
Mahoney State Park
Lincoln
Broken Bow
West Point
Valentine
Council Bluffs
Ogallala
Beatrice
North Platte
Lincoln
Chadron
Grand Island
Norfolk
Kearney
Grand Island
Virtual
Fremont
Neligh
Osceola
Minden
Genoa
York
Lincoln
Grand Island
Omaha/Council Bluffs
Red Cloud
Gothenburg
Central City
Kearney
North Platte
Hastings
Lincoln
Lexington
Minden
Aurora
Kearney
Columbus
Red Cloud
Cozad
Nebraska City
Valentine
Lincoln