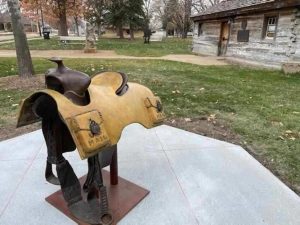 Join NPW in Gothenburg for the 2023 Fall Conference
Come explore the past and present in journalism at the 2023 Nebraska Press Women's fall conference in Gothenburg on Saturday, Oct. 14. The guest speaker lineup will feature a presentation on Kearney's first female journalist and two authors who will address the pros and cons of self-publishing and producing e-books.
Conference activities will begin with registration at 9:30 a.m. at the Gothenburg Public Library, 1104 Lake Ave.
We have allotted an hour for our business meeting with our first speaker taking the podium at 11 a.m. Nathan Tye is an assistant professor of history at the University of Nebraska at Kearney (UNK). A riveting speaker, Tye will talk about the fascinating life of Maud Marston, Kearney's first female journalist.
At UNK, he specializes in Nebraska history and the history of the American West and Midwest, and more. His research documents the fascinating but misunderstood lives of hobos, tramps, and other transient workers who traveled across the West and Midwest by hopping trains from the 1870s through 1930s.
Born and raised in Kearney, he holds a Bachelor of Arts degree from Creighton University and a doctorate from the University of Illinois at Urbana-Champaign.
At our noon luncheon, also at the library, we will honor our 2023 NPW Communicator of Achievement.
The afternoon program begins at 1:30 p.m. John Hunt of Broken Bow, author of "Secrets of the Sandhills," will speak about writing and self-publishing his first book. Secrets of the Sandhills is a novel about a young man from Chicago who comes to the Sandhills and discovers geographical wonders, historical tales and mannerisms unique to this western culture. Hunt is a fourth generation central Nebraskan who operates a home construction business. He has also been a hunting and fishing guide in the Sandhills.
Following Hunt's presentation, NPW member W.A. Ashes (aka Ashley Mohler) will address her experiences with e-books. She is a self-published author who specializes in young adult fantasy and new adult clean paranormal romance. She's from Gothenburg and also works as a newspaper journalist for a newspaper.
Ashes does editing for fellow self-published and e-book writers. Her freelance writing includes articles for the Gothenburg Leader and occasionally the Cozad LOCAL. She first published in 2016 and has published 13 books with three on the way.
Following their presentations Hunt and Ashes will participate in a question-and-answer session.
At 3 p.m. we will conduct a door prize break and plan to wrap up the program by 3:30 p.m. allowing attendees time to visit Gothenburg attractions such as the Pony Express Station in Ehmen Park or the Sod House Museum located near Interstate 80. Gothenburg also has a number of boutiques and fun shopping stops downtown.
WEEKEND SCHEDULE
Friday, Oct. 13
6 p.m. – The NPW board will gather at the Gothenburg Pizza Hut, 415 Platte River Dr., meeting room for their fall meeting.
6:30 p.m. – Board members will order off the menu and continue with a working supper until 8-8:30. Any early arrivals to Gothenburg are welcome to join the board. We have the room until 9:30 p.m. if we want to linger.
Saturday, Oct. 14
9:30-10 a.m. – Registration at the Gothenburg Public Library, 1104 Lake Ave.
10-10:45 a.m. – NPW fall business meeting
10:45-11 a.m. – Break
11-11:50 a.m. – Program by Nathan Tye on Maud Marston, Kearney's first woman journalist
11:50-Noon – Break to set up for COA luncheon
Noon – Catered lunch
12:45-1:15 p.m. – 2023 COA presentation
1:15-1:30 p.m. – Break
1:30-3 p.m. – Speakers panel addressing the self-publishing and e-books trend. First presenter will be John Hunt, author of "Secrets of the Sandhills," who will talk about writing and self-publishing his first book.
Second presenter will be W.A. Ashes, an eBook author and editor from Gothenburg. A joint question and answer session will follow their talks.
3-3:30 p.m. – Door prizes and Wrap-up
Lodging
A block of 10 rooms has been reserved until Sept. 30 at the Gothenburg Howard Johnson, just off I-80 at 401 Platte River Drive. The Howard Johnson is directly across the parking lot from the Pizza Hut. Please call the motel directly at 308-537-7359 and request a room from the Nebraska Press Women block. The rooms have two queen beds and are $113.12 per night and that includes the local sales and lodging tax.
Past Conferences
Spring 2023
Nebraska Journalists: Proudly Persevering was the theme for the Nebraska Press Women Spring Conference April 22 at the Homestead National Monument Education Center on the west edge of Beatrice.
Speakers were author Alan J. Bartels, (shown in photo) Lower Loup Natural Resources District information and education coordinator, and former editor of NebraskaLife magazine; Carol Lomicky, an author and professor emerita in journalism at the University of Nebraska at Kearney; and LuAnn Schindler of Clearwater who talked about launching a new weekly newspaper in 2019, the Summerland Advocate-Messenger.
Bartels' topic was "How not to become a writer," including an update on his second book, "100 Things to do in the Nebraska Sandhills before you die," which will be published in September.
Lomicky, an NPW member, talked about what newspaper mergers, acquisitions and closures mean for local communities.
Register for the Fall 2013 conference now.
Fall 2022
Keynote speaker Jennifer Nelson is a senior staff attorney with the Reporters Committee for Freedom of the Press, where she leads its pre-publication and pre-broadcast review practice, oversees the publication of and updates to the Reporters Committee's legal guides, and supervises its hotline for journalists. She talked about rights and responsibilities for freelancers. The afternoon speaker was NPW member Eileen Wirth, a professor emeritus of journalism at Creighton University and author specializing in Omaha history. She talked about her recently published book, "The Women Who Built Omaha."
Spring 2022
Nebraska may be late to the non-profit news movement party, but that's not necessarily bad, according to the leaders of the Cornhusker State's two non-profit news entities. Cate Folsom, editor-in-chief of the Nebraska Examiner, and Matt Wynn, executive director of the Nebraska Journalism Trust, which funds the Flatwater Free Press, discussed the challenges of launching these new non-profit media outlets at the Nebraska Press Women Spring Conference in York. Both said Nebraska's relatively late entry into the category gave them a chance to see what worked – and didn't work – at other non-profit news
outlets around the country. The two non-profit publications are based on different models, but both dedicate themselves to providing journalism as a public service that fills some of the gaps in the existing media.
Fall 2021
Nebraska Press Women celebrated its 75th anniversary during its Fall Conference October 9 in Grand Island with the theme 75 Years of Truth Telling. Keynote speaker was Sherri Burr, attorney, educator, TV arts program producer, newspaper columnist, travel writer and Pulitzer Prize-nominated author. She also is New Mexico Press Women president and the 2021 National Federation of Press Women Communicator of Achievement.
Burr's topic for the evening banquet was "The Story Behind the Book." She talked about her book, "Complicated Lives: Free Blacks in Virginia, 1691-1865." Published in 2019, it was nominated for a Pulitzer in the history category.
Her morning presentation was on "The Illusion of Control in the Digital Era."
Spring 2021
The virtual event featured a photography workshop by Scott Umstattd, a travel and documentary photographer with more than 30 years of experience shooting around the globe.
In addition to continuing his own photography endeavors, he is a presenter at photography workshops and is the author of "Fighting the Evils of Darkness: A Low Light Photography Survival Guide," which was his focus for the Nebraska Press Women presentation. He also has written hundreds of informative articles on his photography blog, What Makes a Picture Powerful at picture-power.com.
Fall 2020
Held virtually via Zoom, the program focus was "Newspaper Start-ups."  Gothenburg Leader General Manager Rebecca Steward and LuAnn Schindler of Clearwater, publisher and co-owner with her husband, Scott, of The Summerland Advocate-Messenger, talked about their newspapers, how and why they decided to create startups, and the difficulties and rewards of doing so.
Fall 2019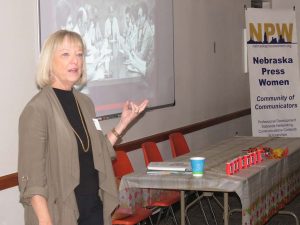 Kristin Gilger, co-author of the book "There's No Crying in Newsrooms: What Women Have Learned about What It Takes to Lead," was keynote speaker for NPW's fall conference on Oct. 12, in Fremont.  Gilger, the Cronkite School's senior associate dean at Arizona State University and a UNL alum, talked about her book and lead a conversation about the challenges and opportunities for women in leadership.
A panel discussion, "When Disaster Strikes, Nebraska Strikes Back," focused on the media's response to flooding earlier this year. Panelists were Erin Grace, Omaha World-Herald columnist; Rose Ann Shannon, retired news director of KETV; and Tammy Real-McKeighan, news editor of the Fremont Tribune.
Spring 2019
NPW's 2019 Spring Conference April 26 and 27 in Broken Bow featured a field trip to a ranch north of Broken Bow to see the giant wind turbines on the pasture hills. Matthew Haumont described the pros and cons of the wind farm project for his family, one of the first ranch families to approve land leases for turbine construction.
The keynote workshop by Laurinda Weisse, an assistant professor in Calvin T. Ryan Library at the University of Nebraska at Kearney, focused on digital filing system options for photographers, self-employed freelancers and others.
Fall 2018 
"Recording Memories:  Writing and Rewinding History" was the theme for NPW's Fall Conference held Oct. 6, 2018, in Neligh. The morning session focused on historic writing, with author Marie Krohn, a Neligh native.  A former teacher, Krohn left the classroom after 17 years and em­barked on a writing career. Gloria Christiansen, a former educator from the Clearwater and Neligh areas, provided an overview of The Rural School Project. Christiansen spearheads a local committee which secured a former country school, moved it 10 miles to Neligh and is in the process of renovating it, as part of the Antelope County Museum complex. NPW member and History Nebraska board member Eileen Wirth spoke on "History Nebraska: Building Our Future on Our Past."
Read an overview of the conference in the Winter 2018 Newsletter.
Spring 2018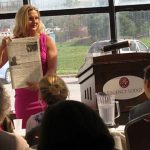 Paula Lavigne, an ESPN investigative reporter working primarily for the Outside the Lines brand on television and online, was keynote speaker for NPW's spring conference May 5, 2018,  in Omaha. Lavigne is also co-author of the book "Violated: Exposing Rape at Baylor University Amid College Football's Sexual Assault Crisis." She is a specialist in data journalism and statistics and also trains colleagues on databases and investigative reporting techniques. She has degrees from the University of Nebraska-Lincoln and Creighton University.
Lavigne presented a workshop on "Navigating 'Multi' Media: Setting Yourself Apart" where she talked about how in today's market there's an expectation for journalists to be flexible and skilled in different types of media – digital, print, radio, TV, social media, etc. — and what you can do to set yourself apart at both specializing and broadening your skill set.
Read an overview of the conference in the Summer 2018 Newsletter
Fall 2017 
NPW's fall conference on Sept. 30, 2018, in Osceola, Neb., featured the expertise and achievements of members. NPW Professional Development Director Jill Claflin organized two panel discussions, one focusing on freelancing, the other on the creating award-winning contest entries for the communications contest.
Read an overview of the conference sessions in the Winter 2017 Newsletter.
Spring 2017 
"Striking the Balance" was the theme for the Nebraska Press Women's spring conference April 29 in North Platte. Topics were work-life balance and balancing the "post it now" demands of social media with the need to produce well-written, error-free copy.
Melissa Matczak, the first female executive editor of The Omaha World-Herald, talked about how she has balanced her career with raising a family of three daughters. She also led a session on online news, including social media. Matczak joined the World-Herald in 1997 as a reporter and became an assignment editor in 2001. She served as features editor, assistant managing editor and managing editor before being named executive editor in January 2017.
Fall 2016
The celebration for Nebraska Press Women's 70th anniversary continued during the Oct. 8, 2016, fall convention. The "Down on the Farm" event featured jeans and boots, outdoor workshops focusing on polishing the sense of place in your writing and photography, and lunch built around beef brisket and chicken from a smoker next door to the restaurant in a converted barn. The conference was held at Burchell's White Hill Farm northwest of Minden.
Spring 2016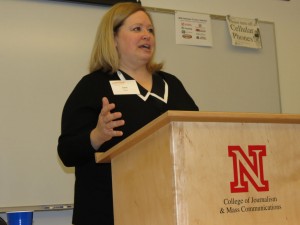 Former Chicago Tribune managing editor Jane Hirt was the keynote speaker at the NPW's spring convention on April 23, 2016, in Lincoln. A 25-year veteran of the news media industry, Hirt embodies the NPW's 70th anniversary convention theme of "Embracing the Future, Respecting the Past."
The UNL journalism graduate was called a "charismatic leader who could make change happen" by Gerry Kern, the Chicago Tribune editor who recognized her abilities and tapped her for managing editor/vice president of the Tribune in 2008, a position she held until Nov. 24, 2014, when she stepped down to pursue personal interests.
Past Convention Locations
Spring
Fall
2023
2022
2021
2020
2019
2018
2017
2016
2015
2014
2013
2012
2011
2010
2009
2008
2007
2006
2005
2004
2003
2002
2001
2000
1999
1998
1997
1996
1995
1994
Beatrice
York
Virtual
Conference canceled
Broken Bow
Omaha
North Platte
Lincoln
Lexington
Ogallala
Omaha
Peru State College
Halsey
Lincoln
Council Bluffs, IA
Norfolk
Mahoney State Park
Lincoln
Broken Bow
West Point
Valentine
Council Bluffs
Ogallala
Beatrice
North Platte
Lincoln
Chadron
Grand Island
Norfolk
Kearney
Kearney
Grand Island
Virtual
Fremont
Neligh
Osceola
Minden
Genoa
York
Lincoln
Grand Island
Omaha/Council Bluffs
Red Cloud
Gothenburg
Central City
Kearney
North Platte
Hastings
Lincoln
Lexington
Minden
Aurora
Kearney
Columbus
Red Cloud
Cozad
Nebraska City
Valentine
Lincoln