NPW's Memorial Scholarship is $1,000 for 2018. The scholarship is open to women graduate students, as well as to undergraduate women who are pursuing careers in mass communications at a Nebraska college or university. Undergraduates must be in or beyond the second half of their second academic years of college. Graduate students must be enrolled for at least nine credit hours; undergraduate students must carry at least 12 hours. In 2012, the NPW Memorial Scholarship and NPW Excellence in Media Scholarship were combined into the NPW Memorial Scholarship. See below for a list of past recipients.
To be considered for the scholarship, applicants must submit:
A completed application form. Download the form:  NPW 2018 College Scholarship Application
One to three samples of your work, such as newspaper stories, photographs, radio or video clips; advertising copy or layouts or professional social media posts.
A personal letter that outlines your achievements and goals. This letter must be no more than two, double-spaced, single-sided pages. This will be a major factor considered by the scholarship committee.
A reference letter from an advisor or faculty member that attests your overall GPA, as well as your GPA in your major field; it should also note why you should be selected for this scholarship (a second letter from someone of your choice is optional).
Because of the nature of the profession, the judges will heavily weigh correct spelling and grammar. Please be sure and proofread all aspects of the application.
Learn more about the scholarship: 2018 Scholarship Information. Download the form:  NPW 2018 College Scholarship Application
Questions may be directed to the NPW Scholarship Chair listed on the contact page.
Applications must be postmarked by April 5, 2018.
2017 Scholarship Recipient
Baylee Vrtiska is a journalism and broadcasting sophomore at the University of Nebraska-Lincoln, having transferred from Northwest Missouri State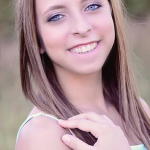 University.
During summer 2016, the Falls City native worked as a television news intern for News Channel Nebraska 21 (NCN). Shortly after her hire, while the Fairbury and Beatrice news stations were being built, Vrtiska independently managed NCN's Falls City bureau. Operating a camera while reporting in the field, Vrtiska produced and edited news videos, anchored newscasts and recorded morning radio news for Nebraska City's FM B103.1 station. In 2016-2017 Vrtiska was video editor for The Hope Venture, a nonprofit global organization that aims to help people through compassion-based projects. She edited footage taken on mission trips in India and Africa into short videos, increasing social awareness issues.
After she graduates in May 2019, Vrtiska plans to pursue a career that allows her "to use her journalism skills to tell the stories of others, and bring awareness to projects that are making a difference in people's lives."

For more information on NPW scholarships, e-mail NPW scholarship director Tammy Bain through the Contact Page.
Recent winners of the NPW Memorial Scholarship include:
2016-17: Baylee Vrtiska, University of Nebraska-Lincoln
2015-16: Emma Olson, University of Nebraska-Lincoln
2014-15: Mara Klecker, University of Nebraska-Lincoln
2013-14: Chelsea Eaton, University of Nebraska-Lincoln
2012-13: Emily Hemphill, Concordia University
2011-12: Hailey Konnath, University of Nebraska-Lincoln
2010-11: Emily Nohr, University of Nebraska-Lincoln
2009-10: Jamie Klein, University of Nebraska-Lincoln
2008-09: Skylar Osovski, Wayne State College
2006: Michelle Bishop, University of Nebraska-Omaha
2003: Jennifer Myers, Nebraska Wesleyan University
2001: Valeria R. Robert, University of Nebraska at Omaha
1999: Sarah Fox, University of Nebraska-Lincoln
1997: Stacy Rande, University of Nebraska-Lincoln
1996: Mary Woods, Chadron State College
1995: Melissa Dunne, University of Nebraska-Lincoln
Recent winners of the NPW Excellence in Media Scholarship include:
2011-12:Elizabeth Lachnit, University of Nebraska-Lincoln
2010-11: Bethany Trueblood, University of Nebraska-Lincoln
2009-10:Erin Starkebaum, University of Nebraska-Lincoln
2008-09: Sarah Thomsen, Wayne State College
2006: Linsey Marshall, University of Nebraska-Lincoln
2003: Amanda Sauder, Union College
2001: Tiffany Schmitz, Wayne State College
1999: Kristi Mehlhoff, Chadron State College
1997: Jessica Kennedy, University of Nebraska-Lincoln
1996: Becky Lagler, Chadron State College
1995: Rainbow Rowell, University of Nebraska-Lincoln