The High School Communications Competition sponsored by Nebraska Press Women (NPW) and the National Federation of Press Women (NFPW) inspires students to excel in their journalistic endeavors.
Students can compete in 23 categories:  Editorial, Opinion, News Story, Feature Story, Sports Story, Cartooning, Review, Sports Photo, News or Feature Photo, Graphics/Photo Illustration, Columns or Blogs, Radio Prepared Report, Radio/TV Interview or Talk Show, Best Radio or TV Newscast, Single-Page Layout, Double-Truck Layout, Environment, Video News Story, Video Feature Story, Video Sports Story, Yearbook Photo, Yearbook Layout and Yearbook Copywriting.
State winners receive a certificate and are recognized at the NPW spring convention. First place winners' entries are sent to NFPW to compete in the national contest. This is the ONLY national competition for high school journalists. National student winners, their parents and advisers are invited to attend the NFPW High School Communications Contest Awards Luncheon at the NFPW conference held each fall. All national winners receive a certificate, with first-place winners receiving $100 each.
Work eligible for state competition generally must be completed between Feb. 1 of the previous year and Jan. 31 of the current year. The state entry fee for the 2018 contest was $5 per entry with entries submitted electronically. The entry deadline was Feb. 20, 2018. Watch for 2019 contest information to be posted late this year.
For more information on the state contest, contact Bette Pore or LuAnn Schindler via their emails listed on our Contact page.
The NFPW contest is endorsed by the National Association of Secondary School Principals. Dow Jones announces first-place winners and promotes the competition in its publication distributed to journalism advisers across the nation, giving students and their teachers/advisers local and nationwide recognition.
Find out more about the high school contest online at the NFPW website.  Additional details about the contest, including the category descriptions, are included here.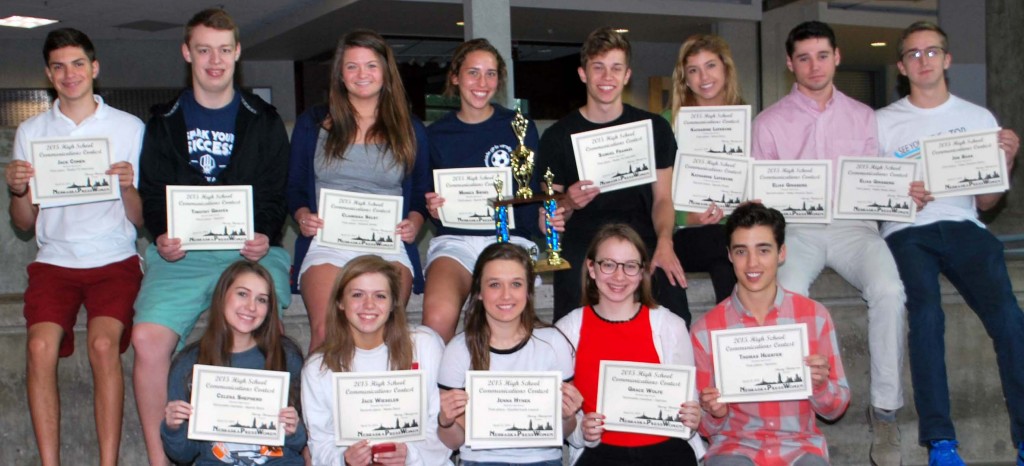 Westside High School in Omaha was the recipient of the inaugural sweepstakes award in Nebraska Press Women's High School Communications Competition presented at the 2015 spring convention. Seventeen Westside students won 22 awards, including 10 first places. First-place entries advanced to the National Federation of Press Women competition.