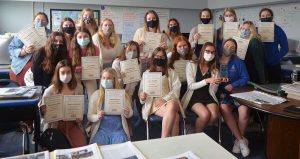 Marian High School in Omaha has earned the Sweepstakes Award in the 2021 Nebraska Press Women (NPW) High School Communications Contest. The annual competition included 218 entries by students from 15 Nebraska high schools. The contest, which is open to high school students across the state, includes categories in the areas of writing, visual, broadcast or video, and yearbook. 
Entries were judged by communications professionals, with constructive feedback provided on each entry. See the complete list of award winners.
First-place entries in the state contest advanced to the National Federation of Press Women contest. Nebraska students won 16 awards in the 2021 contest. See the list of national winners.
Students and advisers are encouraged to begin thinking about next year's contest. Details will be announced in the fall. In 2021, the entry deadline was Feb. 10. The following information will help students plan their entries. 
5 Reasons to Enter the High School Contest
The statewide contest is open to both male and female students across the state. Students compete with other outstanding communicators in their quest for excellence.
There are 23 categories in the areas of news, electronic media and yearbook. See the complete list.
Entries are judged by professionals who provide feedback on each entry.
 All winners receive certificates and are recognized at NPW's spring conference luncheon. The school receiving the sweepstakes award receives a trophy and $100 for its journalism department.
First-place winners in each category advance to the National Federation of Press Women's national contest. This is the ONLY national competition for high school journalists.  All national winners receive a certificate.
All 2021 contest entries must have been published, e-published, broadcast or issued between Feb. 1, 2020, and Jan. 31, 2021.  The state entry fee for the contest is $5 per entry with entries submitted electronically. The entry deadline was Feb. 10, 2021.
Find out more about the high school contest online at the NFPW website.  Additional details about the contest, including the category descriptions and entry information, are included here.
For more information on the state contest, contact Sherry Thompson by email.
The NFPW contest is endorsed by the National Association of Secondary School Principals. Dow Jones announces first-place winners and promotes the competition in its publication distributed to journalism advisers across the nation, giving students and their teachers/advisers local and nationwide recognition.