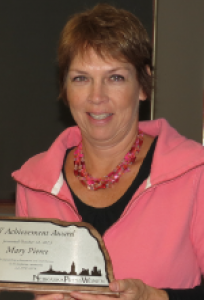 Mary Pierce, the award-winning news editor of the Keith County News, was named the NPW 2013 Communicator of Achievement at the fall convention in Lincoln.
In the presentation, Pierce was described as the "epitome" of the community journalist. She has said that her job is her community project. She loves telling people about what is going on in her community and enjoys inspiring others through her stories.
Her work has earned her numerous awards in the NPW and National Federation of Press Women professional communications contests. She won first place in the state contest sweepstakes in 2011, which is given to the journalist who garners the most awards that year. She regularly places among the top three in the annual sweepstakes.
Pierce has worked for the weekly Keith County News since 2000. As news editor, she writes breaking news and features, covers city andcounty government and reports on community issues. She also edits part of the paper. She previously worked for the North Platte Telegraph.
While at the Telegraph, she earned a bachelor's degree in journalism at the University of Nebraska at Kearney. She was a nontraditional student who commuted from Ogallala to Kearney several times a week for classes.
Pierce is a 25-year member of NPW and has been active on the organization's board for many years. She has served as secretary and as the professional communications contest director and high school contest director. She is helping organize the 2014 spring convention in Ogallala.
The Communicator of Achievement award is the top honor that NPW bestows on its members. The award goes to a member who has made outstanding achievements and contributions to the profession of journalism, to the community and to Nebraska Press Women and the National Past NPW Federation of Press Women.