May 3, 2014 – Leta Powell Drake, Gwen Lindberg and Elia Peattie were inducted into the Marian Andersen Nebraska Women Journalists Hall of Fame during the Nebraska Press Women's (NPW's) spring conference at Mid-Plains Community College in Ogallala on May 3.
The Marian Andersen Nebraska Women Journalists Hall of Fame was established in 2011 to recognize working women journalists who, through talent, initiative, intelligence and stamina, made a difference for the profession, for the community and for those who followed in their footsteps.
With these latest inductions, the hall of fame now includes 14 members.  It's located on the second floor of Andersen Hall at the University of Nebraska College of Journalism and Mass Communications.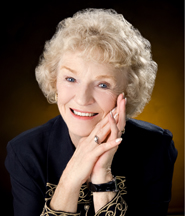 Leta Powell Drake is a television pioneer who forged a path for other women to follow as a writer, producer, program director and on-air talent. During a 50-year professional broadcasting career, she has hosted and produced more than 10,000 television shows and is still counting. Drake spent 28 years working for KOLN/KGIN, where she inspired thousands of children as the West's only lady sheriff, Kalamity Kate, for 15 years and hosted and produced the 10/11 Morning Show for 25 years. She was promoted to program director in 1982, and in 1989 she joined the staff at NETV, where she worked for 13 years.
Her career has also included public relations for the Salvation Army and Aging Partners. She continues to contribute to her profession by hosting and producing "Live & Learn," a Lincoln show for senior citizens.
"I've witnessed dramatic technological and sociological changes to which I've had to adjust," Drake says of her career. "When all of the shows were live and the Google search had not yet been invented, I had to read widely and be prepared for anything. Upon retirement, I decided to try my hand at writing the stories that have never been told. I must admit that writing is a lot harder than talking. I wanted to capture those early days of local children's TV before all the players have left the game."  Drake's book, "The Calamities of Kalamity Kate: A History of KOLN/KGIN-TVs Kids Shows" will be available this fall.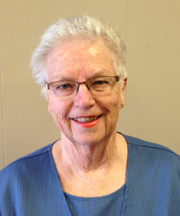 Gwen Lindberg is a writer, editor, photographer, publisher, artist, musician, community leader and sponsor who epitomizes community journalism. It's a profession that has allowed her to connect with others and tell their stories. Lindberg began her career as a young mother, working alongside her husband/partner, Dick. The couple worked for a newspaper in Littlefield, Texas, before returning to Nebraska, where they purchased the Sargent Leader. In 1969, the Lindbergs purchased the West Point Republican, combining it with the Cuming County Democrat three years later to create the West Point News. Lindberg wrote a weekly "Small Town" column for 36 years, drew editorial cartoons for more than 10 years and was the first female president of the Northeast Nebraska Press Association. The co-publishers owned four other area papers before retiring in 1992.
Lindberg is an active community member who helped produce two West Point history books, helped start a local art club, supported community theater and taught Vietnamese cooking classes. She has published newsletters for several organizations, and she continues to serve as head organist for her church. In 2011, Lindberg was honored as a 50-year member of the National Federation of Press Women.
"There were so many rewarding parts of my career," Lindberg says. "I'd have to say that one of the favorite things was having license to be curious and ask people about their stories, because each of us has a story. I love the connection with others.  And I love words – putting them together, editing the piece a bit, finding just the right fit – and then letting go."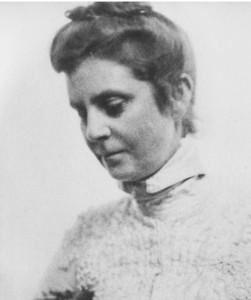 Elia Wilkinson Peattie (1862 – 1935) was one of the great early Nebraska woman journalists. Peattie and her husband, Robert, were employed by the Chicago Tribune – where she was the first female reporter – before moving to Omaha in 1888 to work together on what would later become the Omaha World-Herald.  Peattie became one of the first Plains women to write editorial columns addressing public issues in a major newspaper. During her eight years in Omaha, Peattie wrote more than 800 columns and feature articles.
The Peatties returned to Chicago in 1896 because of Robert's poor health; Elia freelanced for the Chicago Daily News and later became the literary editor for the Tribune. She also published novels, poetry, short stories and nonfiction in the major magazines of the day.
"Unafraid of social, religious or political controversy, Peattie tackled subjects such as the Wounded Knee Massacre, capital punishment, prostitution, women's roles in the church, politics, education and the home, the need for orphanages, shelters for unwed mothers, and charity hospitals in the burgeoning young city of Omaha," says Dr. Susanne Bloomfield, whose book "Impertinencies," calls attention to Peattie's achievements.  "Peattie's intellectual background, her use of irony and humor, her ability to employ various genres and literacy approaches, and her undaunted 'impertinence' produced a strong voice in waging her editorial campaigns. As a result, she became a vital catalyst for social change and a successful role model for promoting personal and professional independence for women."
Marian Andersen Nebraska Women Journalists Hall of Fame Honorees
Wilma Crumley – 2011
Bess Furman Armstrong – 2011
Lynne Grasz – 2011
Marjorie Marlette – 2011
Beverly Pollock – 2011
Deanna Sands – 2011
Mildred Brown – 2012
Harriet Dakin MacMurphy – 2012
Mary McGrath – 2012
Clara Bewick Colby – 2013
Maxine Moul – 2013
Leta Powell Drake – 2014
Gwen Lindberg – 2014
Elia Peattie – 2014