Two journalists who worked in Nebraska over the last three centuries were inducted into the Marian Andersen Nebraska Women Journalists Hall of Fame April 27 in Broken Bow.
Ruth Brown of Lincoln and the late Maggie Mobley were recognized during Nebraska Press Women's 2019 spring convention noon luncheon. Brown, a West Point native, is an emeritus professor of advertising at the University of Nebraska, having taught journalism at the University of Nebraska at Kearney and then at the University of Nebraska-Lincoln from 1993 to 2016.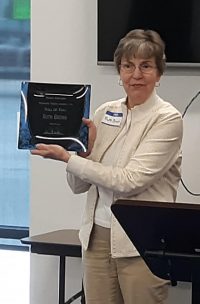 Mobley, editor and publisher of The Platte Valley Independent, first in North Platte and then in Grand Island, from 1870 to 1884, is believed to be the first female newspaper publisher in Nebraska.
During her time at the University of Nebraska, Brown educated and mentored countless future journalists, instilling responsibility and accuracy in them. She worked hard to help her students find internships in small communities across the state. Her teaching and advising were mostly in public relations and advertising, but she also taught copywriting, design, reporting and history. She also served on scores of academic committees, and advocated and taught through distance education.
While she was working so hard to prepare her students to become the next working journalists in Nebraska and throughout the country, Brown also has made a huge impact on the state through her involvement in Nebraska Press Women. She was the one, as president of NPW, who conceived of and raised funding for this hall of fame. She proposed the creation of a hall of fame to honor Nebraska women journalists to Marian Andersen of Omaha and convinced her to provide funding that has been invested in a way to ensure the hall of fame will be supported in perpetuity.
Mobley was gifted in writing poetry, which she published in her newspaper, but she also was known for her fiery editorials, as she dedicated herself to exposing wrong wherever she found it. The fallout from one of those editorials, less than six months after she and Seth Mobley started The Independent, resulted in their moving the paper to Grand Island, where she was active in the community and the Nebraska Grange. After her newspaper career ended due to severe rheumatoid arthritis, she continued to write letters to newspapers across the state decrying the conditions at the State Insane Asylum in Lincoln, where she was briefly hospitalized.
NPW established the Marian Andersen Nebraska Women Journalists Hall of Fame in 2011, with funding support by Harold and Marian Andersen, to commemorate the 65th anniversary of NPW as an affiliate of the National Federation of Press Women. These women journalists are recognized for their talent, initiative, intelligence and stamina, and for making a difference for the profession, for their communities and for those who follow in their footsteps. Nominees are sought from the general public and honorees are chosen by the NPW Board of Directors.
With Ruth Brown and Maggie Mobley, the Marian Andersen Nebraska Women Journalists Hall of Fame now has 24 members. The hall is displayed on the second floor of UNL's Andersen Hall. It also can be seen at the Hall of Fame section of the NPW website, nebraskapresswomen.org.

Other honorees are Rose Ann Shannon, Mary Kay Quinlan, Eileen Wirth, Willa Cather, Mary Ann Koch Blackledge, Sharron Hollen, Joan Rossiter Burney, Beverly Deepe Keever, Leta Powell Drake, Gwen Lindberg, Elia Wilkinson Peattie, Maxine Moul, Clara Bewick Colby, Mary McGrath, Mildred Brown, Harriet Dakin MacMurphy, Bess Furman Armstrong, Marj Marlette, Wilma Crumley, Beverly Pollack, Lynne Grasz and Deanna Sands.