June 28, 2019 – Eileen Wirth of Omaha, Neb., was selected the 2019 Communicator of Achievement Award by the National Federation of Press Women (NFPW). This prestigious award has been given for 62 years.
Wirth received the award Friday, June 28, during the organization's annual conference, held in Baton Rouge, La. Now in its 82nd year, NFPW is a nationwide organization of professional women and men pursuing careers across the spectrum of journalism and communications.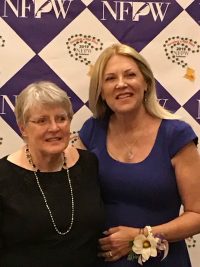 The Communicator of Achievement award is the highest honor bestowed by NFPW upon those members who have distinguished themselves within and beyond their field. The recipient, chosen from nominees selected by state affiliates from around the country, is recognized for exceptional achievement in the communications field, as well as service to NFPW and to the community.
Wirth, a member of the Nebraska Press Women, is a retired professor of journalism and mass communication at Creighton University. She became the first woman chair of Creighton's journalism department in 1998. During her tenure, Wirth enlarged the department, bringing graphic design and computer science together with journalism, advertising, public relations, photography, video and new media.
Prior to joining the university, Wirth was one of the first female news reporters at the Omaha World-Herald, then became the first woman in public relations management at the Union Pacific Railroad. Wirth said she didn't set out to break barriers in her career. All she wanted at the beginning was to be a hard news reporter for the state's largest newspaper.
Wirth also co-authored eight books and scores of articles. Most prominent among her books is From Society Page to Front Page: Nebraska Women in Journalism, published in 2013.
In addition to professional achievement, the Communicator of Achievement Award recognizes service to the community and to the National Federation of Press Women. Wirth was a staunch, early supporter of the Nebraska Women Journalists Hall of Fame and continues to write and advocate for strong, independent journalism.
She now volunteers as a trustee for the Nebraska State Historical Society, helping rebrand the group as History Nebraska.
Wirth has served in various capacities in Nebraska Press Women and has won multiple awards in the NFPW Communications Contest.
Runner-up in the Communicator of Achievement competition was Verna Gates of Birmingham, Ala., an active member of Alabama Professional Communicators. A longtime journalist who was one of the original 50 employees of CNN, Gates is also a nationally known folklorist and travel writer.