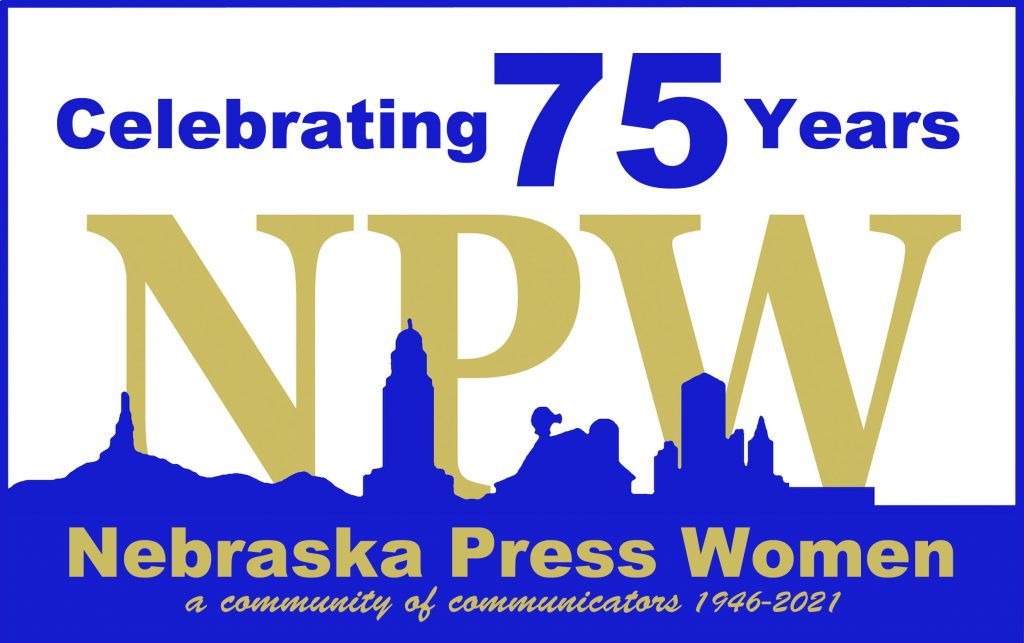 By Lori Potter, NPW President

We haven't exactly packed 75 years' worth of stuff into the schedule for the Nebraska Press Women Fall Conference and 75th Anniversary Celebration, but there will be a lot to learn, see, do and celebrate on Oct. 9.
This will be our first in-person conference in two years. Because we had a virtual mini-conference in the spring, several events that typically are part of a spring conference program will be packaged with traditional fall events this year.
That means we will recognize high school and professional contest winners, scholarship recipients, and the 2020 and 2021 inductees to the Marian Andersen Nebraska Women's Hall of Fame, plus announce the 2021 Communicator of Achievement.
Our venue will be the Ramada Midtown Conference Center at 2503 S. Locust St. in Grand Island.
We have an outstanding line-up of workshop topics and speakers.
First up from 10-11:30 a.m. will be "We Should Start a Podcast" by Kaci Richter of the University of Nebraska-Lincoln College of Journalism and Mass Communication.
Richter says attendees will learn how to start a podcast, from equipment and planning to distribution and analytics. She also will cover best practices in podcasting and discuss how to grow your podcast.
Her presentation will be followed by "The Illusion of Control in the Digital Era" by attorney, educator, TV arts program producer, newspaper columnist, travel writer and Pulitzer Prize-nominated author Sherri Burr, who is New Mexico Press Women president and the 2021 National Federation of Press Women Communicator of Achievement.
She also will be the keynote speaker for the 75th anniversary celebration banquet that will start at 6 p.m. In "The Story Behind the Book," Burr will talk about "Complicated Lives: Free Blacks in Virginia, 1691-1865," published in 2019, which was nominated for a Pulitzer in the history category.
The afternoon program from 2:30-4 p.m. will be a panel discussion about media coverage of COVID-19. Mary Jane Skala of the Kearney Hub will be moderator and contributor for "Unmasking COVID-19: Journalists, health director share the challenges of covering COVID."
Other panelists will be Tammy Real-McKeighan of the Fremont Tribune, freelancer Irene North of Scottsbluff and Central District Public Health Department Director Teresa Anderson of Grand Island.
Throughout the day, conference attendees can visit an authors table that will include Burr's book and books by NPW members. There also will be a Nebraska Press Women history table display, plus history highlights as part of the banquet program.
Voices from the past and some unique music are among the special features are being planned for the anniversary banquet.
DEADLINES TO NOTE
We have a block of 10 rooms reserved for NPW at Ramada for $102.95 plus tax, including breakfast, for the nights of Oct. 8 and 9.
However, those rooms will be held only until Sept. 8. Thereafter, reservations at the conference hotel will be based on availability.
The conference registration deadline is Sept. 27 with the following rates: Full day, $75 for NPW members and $85 for non-members; day only with lunch, $45; lunch only, $20; and banquet only, $30.
For registration options, visit the NPW conference page at State Conventions « Nebraska Press Women
CONFERENCE SCHEDULE – Oct. 9, 2021
THEME: 75 Years of Truth Telling
8:30-9 a.m.: Registration
9-10 a.m.: Membership business meeting
Workshops
10-11:30 a.m.: "We Should Start a Podcast" – UNL College of Journalism and Mass Communications Assistant Professor of Practice Kaci Richter
11:30-noon: "The Illusion of Control in a Digital Era" – New Mexico Press Women President, author and attorney Sherri Burr
Recognition Buffet Lunch – Noon-2:15 p.m.
Opening inspiration – NFPW Immediate Past President Gwen Larson, Kansas
High school contest state-national winners present – Sherry Thompson
Scholarship recipients present – Mary Kay Quinlan
National professional contest winners and state sweepstakes – Mary Jane Skala.
Marian Andersen Nebraska Women Journalists Hall of Fame – Bette Pore
Afternoon events
2:15-2:30 p.m.: Break
2:30-4 p.m.: "Unmasking COVID-19: Journalists, health director share the challenges of covering COVID"-Mary Jane Skala, Kearney Hub; Tammy Real-McKeighan, Fremont Tribune; Irene North, Scottsbluff; and Central Nebraska Public Health Department Health Director Teresa Anderson, Grand Island
4-5 p.m.: Visit history, member services and authors tables, and hospitality room
5:30-6 p.m.: Social time and banquet seating
75th Anniversary and Communicator of Achievement Banquet – 6-9 p.m.
Opening inspiration – "A Voice From 75 Years Ago"
Buffet supper, with some celebration surprises
Introduction of special guests
Keynote presentation – "The Story Behind the Book" – Sherri Burr
NPW history tidbits and salute to longtime members – Mary Pat Finn-Hoag
2021 NPW Communicator of Achievement announcement – Ruth Brown
9 p.m.: Networking time in hospitality room.