Nebraska Press Women Communications Contest award recipients were recently announced at the organization's spring convention in York.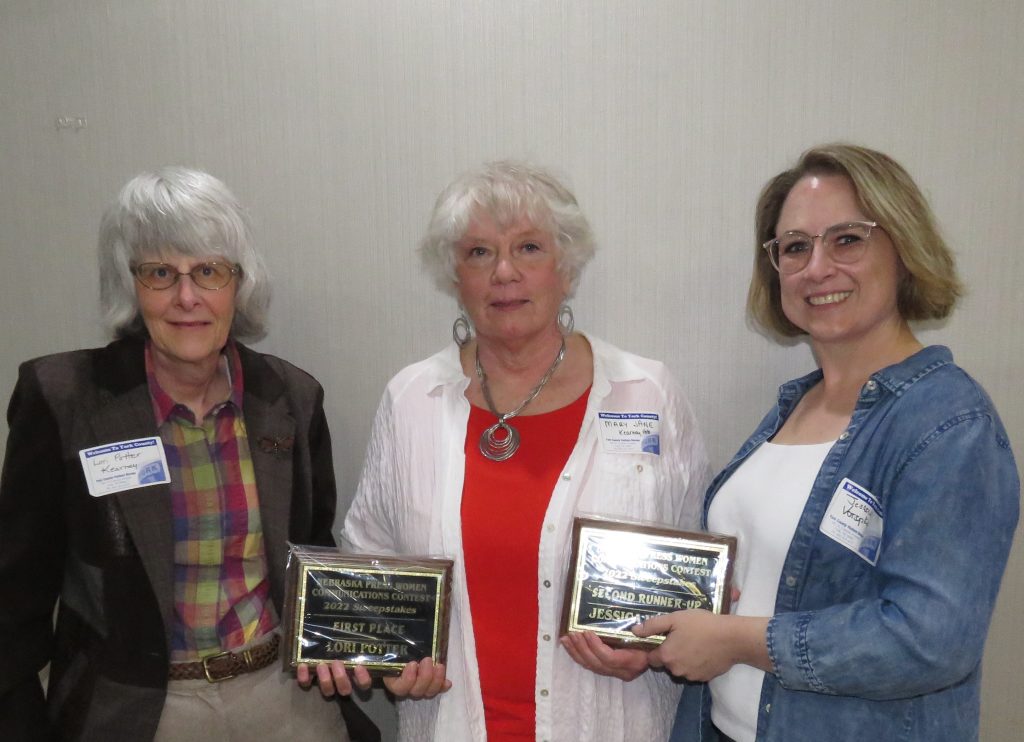 Of the more than 120 entries, 39 earned first place awards and will go on to national competition, according to Mary Jane Skala, NPW contest director. Entrants from Omaha and Lincoln on the east to Scottsbluff and North Platte on the west were eligible to compete in the following categories: broadcast and print journalism, public relations, marketing, advertising, graphic design, digital media and photography.
The top three award recipients earned first, second and third place in Sweepstakes competition. Sweepstakes winners are determined by a point system based on the number of awards earned and the strength of competition in each category.
Lori Potter of Kearney is the 2022 NPW Sweepstakes Award winner, with 21 awards, including eight first place, five second place, five third place and three h onorable mentions. This is the second consecutive year she has won the top Sweepstakes award. Although retired from the Kearney Hub, she continues to do freelance pieces and a personal column for the newspaper. She is also a regular contributor to the Flatwater Free Press.
Mary Jane Skala, also from Kearney, is first runner-up in the Sweepstakes competition. She won 18 awards: 12 first place, five second place and one honorable mention. She is a reporter and personal columnist at the Kearney Hub. She was also first runner-up in the NPW Sweepstakes competition last year.
Both Potter and Skala have also been Sweepstakes winners on the national level.
Jessica Votipka of Grand Island is the second runner-up in the Sweepstakes competition. A reporter at the Grand Island Independent, Votipka won 14 awards: three first place, six second place, two third place and three honorable mentions.
Winners are:
BARB BATIE of Lexington, Midwest Messenger
FIRST PLACE:
1. News story, print newspaper: "Anderson waives extradition, faces charges in Colorado"
8-B, Humorous column, "There's another woman in our life" and "Judging class takes on a whole new look"
SECOND PLACE:
7A, Agriculture, "Goals for the ground"
7S. Style/fashion/interior design etc., "Fabric artists"
8A. General column, "Dogs and their delivery truck friends" and "Do as I say, not as I do"
8-D. Personal column, "Biden 30×30 plan cause for concern" and "Never forget the 20th anniversary of 9/11"
THIRD PLACE
7P. Science/technology, "Get every last drop"
HONORABLE MENTION
7-C. Business, "Fox Theater opening provides perfect ending to CDC
PHYLLIS BUELL of Lincoln – Syracuse Journal-Democrat
THIRD PLACE:
8-B, Humorous columns, "Don't Drink the Kool-Aid" and "Old dogs vs. young cats"
8D. Personal columns, "The events of Jan. 6" and "A Good Gift"
HONORABLE MENTION
8A. General columns, "I've Been thinking" and "What a Week"
TERRI HAHN of Osceola – Grand Island Independent
FIRST PLACE:
8-C. Informational column, "Salute the kernel; Stone fruit season coming to an end"
9C. Headlines. GI Independent
19A. Editing, Publication, Newspaper, Grand Island Independent. July 11, 2021
SECOND PLACE:
18A, Editing, newspaper section, Agriculture & Business pages, GI Independent
25A. Page design, "New life for an old library," GI Independent
THIRD PLACE
8A, General column, "BLT season and I couldn't be happier" and "These soupy taters from Sparks, not the South"
18A. Editing, newspaper section, "Occasions," GI Independent
25A. Page design, newspaper, Holiday Color, GI Independent
HONORABLE MENTION
5A. Feature, print newspaper, "A place for the arts: Merrick Arts Council brings variety of performances to Central City"
7E. Food, "The Age of Asparagus" GI Independent
8C. Informational column: "Fish Fry Fridays" and "Cooked ground beef cuts prep time
HEATHER JOHNSON – Mid-Plains Community College, North Platte 
FIRST PLACE: 21B. Sports photo, "Head Over Heels"
21C. General photo, "A working man's glow"
54. News or feature release, single release, "Area women discover love of auto body through NPCC – defy gender stereotypes"
55. News or feature release, multiple releases: NPCC alum finds strength, confidence through fitness journey; MCC alum pushes the limits of cake decorating; NPCC student commencement speaker to talk about overcoming adversity; MCC alum dedicates lifetime to protecting others; Franzen named MPCC Distinguished Alum
SECOND PLACE: 21B. Sports photo, "Boot-scootin' boogie"
HONORABLE MENTION: 6B. Personality profile, 500+ words, "Rodeo team/friends reflect on time spent with Garrett Nokes" 21B. Sports photo, "Take down"
DELORES MEISTER of West Point – Norfolk Daily News
SECOND PLACE:
7Q. Social issues, "Immigrants from Laos Yang's in Snyder, and their extended family."
THIRD PLACE:
7-D. Education, "Couple to 'Build Artistic Thinking.'"
IRENE NORTH of Scottsbluff – Freelance
FIRST PLACE:
37C, Personal blog, "An Anniversary of sorts"
16-A. Single poem, "Indelible moment"
HONORABLE MENTION:
22 – Photo essay, "I didn't go looking for fish anyway"
BETTE PORE of Grand Island – Grand Island Independent
FIRST PLACE:
4. Editorial/opinion, "Free speech vital for student journalists," GI Independent
18A. Newspaper regularly edited by entrant – Grand Island Independent
25A. Page design, newspaper: Grand Island Independent
SECOND PLACE:
4. Editorial/opinion: "Legislature actions must be in public," GI Independent
CARLA POST of Ayr – Midwest Messenger
FIRST PLACE:
8-A. General column, "Carla's Corner"
THIRD PLACE:
8-C. Informational column, "Producer Progress Report."
LORI POTTER of Kearney – Kearney Hub / Flatwater Free Press
FIRST PLACE (8)
5A. Feature, print-based newspaper, "All about the beef" plus sidebar on Line Family cattle tradition extends six generations
7A. Agriculture, "Best beef ever"
7C. Business, "Snow had no idea he'd run a sawmill someday"
7G, Government/politics, "Sharing irrigation" plus sidebar on Broadband, death tax, input costs top ag leaders issues
7L, Personal essay, "Ancestors told their stories"
21C. General photo, "Crane season sunrise on Platte River"
22. Photo essay, "Sumner rodeo"
23. Photographer-writer, "Branding day more than just cattle work" and sidebar, "Why brand when high-tech available"
SECOND PLACE
1A. News story, print-based newspaper, "Spilled milk," plus sidebar on Wolf family's dairy traditions span four generations
5-C. feature, online publication, "Long thought extinct, native corn re-emerges"
7P. Science/technology, "UV lights up but do they save cranes?" and sidebar, "Rowe observers record how cranes react to power lines"
8A. General column, "Crane friends correspond" and "My rich life as a journalist"
THIRD PLACE
1-C. News story, online publication, "Reefer sadness"
6B. Personality profile, 500+ words, "Rural roots" and sidebar "Many possibilities open for Ibach"
7E. Food, "A savory-sweet tradition" and sidebar, "Food truck will roll out soon, hopefully"
7J. Hobby (crafts building designing construction), "Driving Millie, Beth"
21B. Sports photo, "Sumner rodeo, hung up on rope"
HONORABLE MENTION
21A. News or feature photo, "Bull sale ringmen"
21A. News or feature photo, "Butterflies, Cather prairie"
21C. General photo, "Draft horses, six-horse hitch
ERIKA PRITCHARD of Kearney – Kearney Hub/University of Nebraska at Kearney
FIRST PLACE:
5-C. Feature, online publication: "Phadiziana Smith-Whiteside overcomes obstacles to be the first in family to attend college,"
7-P. Science and technology writing, "More than pretty plants: UNK students, faculty use greenhouse for research"
21A. News or feature photo, "Montessori preschool student Evelynn Wetton"
HONORABLE MENTION:
21B. Sports photo, "Bubblegum catcher"
21C. General photo, "Chancellor Kristensen hugs Fayth Jackson"
LUANN SCHINDLER of Clearwater – Summerland Advocate-Messenger
HONORABLE MENTION
7-D, Education, "Home on the Range"
MARY JANE SKALA of Kearney – Kearney Hub
FIRST (12)
2. Continuing coverage or unfolding news, COVID-19 coverage, 2021
6-B. Personality Profile, 500+ words. "Nyquist cherishes farm, family country"
7-D, Education, "Sharing the light of love and kindness"
7-E. Food, "Bless this food"
7-H. Green/environmental, "Playing in the flowers"
7I. History, "Honoring a veteran 77 years later"
7-M. Physical health, "We have diabetes – hear us now!"
7-N. Religion, "Seeking answers to tough questions"
7-Q. Social issues, "Sacred drumbeat nurtures priest's spirit"
7-S. Style, "The farm a dream come true"
7-T. Travel, "Happy after Hopi haircut"
8-D. Personal Opinion, "Memory of COVID losses" and "Fifty years behind them"
SECOND (5)
5-A. Feature, newspaper, "Experiencing the crucifixion" and "McKee slowly crawls out of the darkness"
7-C. Business, "Thalkens didn't plan to be florists"
7-M. Physical health, "Isabelle can't take her disease off"
7R. Sports, "Vanishing field of dreams
7J. Hobby, crafts, "Mighty with metal"
HONORABLE MENTION: (1)
7-C. Business "Blessings from a loaf of bread"
SHERRY THOMPSON of Omaha – Consultant: Saving Grace Perishable Food Rescue
SECOND PLACE:
38A "Fall Fundraising" online campaign
40A. "Saving grace," Electronic newsletter
51. "Impact 2020" report
HONORABLE MENTION:
9C. "Saving Grace" fall newsletter, newsletter/online publication
JESSICA VOTIPKA of Grand Island – Grand Island Independent
FIRST PLACE
3. In-depth reporting: "Teacher-student race disparity at Grand Island Public Schools"
7J. Hobby, crafts, construction, design, "Shelter from the storm"
7R. Sports, "GI Senior High girls wrestling"
SECOND PLACE
2. Continuing coverage or unfolding news, "Proposed health education guidelines"
6-B. Personality profile, more than 500 words, "From ballfields to cornfields"
7D. Education, "Broken Bow bond issue proposed"
7E. Food, "Fried foods, friends at the state fair"
7H. Green/environmental, "CCC fungal vessel floats"
23. Photographer/writer, "Stitched together"
THIRD PLACE
5A Feature, print newspaper, "World domination, waste elimination"
7-C. Business, "Car wash dream becomes reality"
HONORABLE MENTION
7-B. Arts and entertainment, "Instrument inspired by nature"
7I. History, "Putting Abbot's visage on a coin"
7P. Science/technology, "Interest in welding helping student enter workforce"