Two trailblazing journalists, one in broadcast journalism and the other in journalism education, were inducted into the Marian Andersen Women Journalists Hall of Fame on April 22. Ceremonies were conducted during the Nebraska Press Women's spring conference awards banquet in Beatrice.
Linda Beermann, long-time reporter, photographer, news assignment editor and weather newscaster for KOLN/KGIN-TV, was a posthumous induction.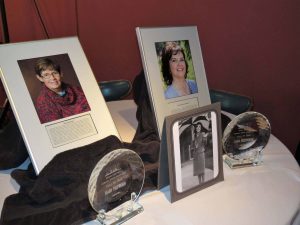 When the station named her its full-time evening weather newscaster in 1979 the move broke numerous glass ceilings as she is believed to have been the first woman nationally to be promoted to that role at a local station. She continued in that role until 1986 when she resigned to be able to spend more time with her two young sons and join her husband, Allen Beermann, in his political and civic roles while Nebraska's Secretary of State.
Her community activities included serving as co-chair of the Arbor Day Centennial celebration and co-emceeing two gubernatorial inaugural balls. She was also involved with the Nebraska Mothers Association's Mother of the Year program.
Mary Hepburn of North Platte was recognized for her work as a reporter/writer for numerous U.S. and Canadian newspapers, publications and government agencies, as well as her years as a journalism educator.
Following graduation from the University of Nebraska-Lincoln in 1972 she taught at Lincoln Southeast High School, then moved to Canada where she taught high school journalism in Montreal and Toronto and then college level journalism in Ottawa. In Montreal she started a high school journalism program, writing her own curriculum.
In 1995 she returned to North Platte where she began working for the North Platte Telegraph, first doing a weekly roundup of church news, then later a more general weekly column. Twenty-eight years later she is still writing that column.
Among her honors are the Woman of Achievement Award presented in 2019 in the area of Cultural Arts, the North Platte High School Distinguished Alumni Award and she has been featured in a video produced by UNL for her support of the College of Journalism.
The Marian Andersen Nebraska Women Journalists Hall of Fame was formed in 2011 by Nebraska Press Women with the exclusive sponsorship and financial support from the late Marian Andersen, a graduate of the College of Journalism and Mass communications at UNL. The purpose of this hall of fame is to recognize working women journalists, who through talent, initiative, intelligence, persistence and stamina, have made a difference for the profession, for their communities and for those who follow in their footsteps.