Come explore the past and present in journalism at the 2023 Nebraska Press Women's fall conference in Gothenburg on Saturday, Oct. 14. The guest speaker lineup will feature a presentation on Kearney's first female journalist and two authors who will address the pros and cons of self-publishing and producing e-books.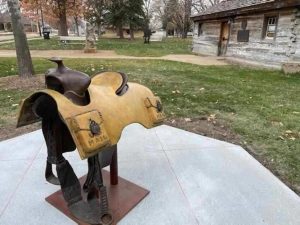 Conference activities will begin with registration at 9:30 a.m. at the Gothenburg Public Library, 1104 Lake Ave. While water and some coffee will be available at the library prior to the start of our business meeting at 10 a.m., if you would like a good cup of java or a hot morning beverage such as tea or hot chocolate, you might want to swing by Stories at 521 Ninth St. in downtown Gothenburg. This Gothenburg coffee shop features a rotating flavor of the day and all the traditional coffee and tea favorites from a breakfast blend to espresso variations, iced coffees, tea and cocoa, chai tea and Italian sodas.
We have allotted an hour for our business meeting with our first speaker taking the podium at 11 a.m. Nathan Tye is an assistant professor of history at the University of Nebraska at Kearney (UNK). A riveting speaker, Tye will talk about the fascinating life of Maud Marston, Kearney's first female journalist. At UNK, he specializes in Nebraska history and the history of the American West and Midwest, and more. His research documents the fascinating but misunderstood lives of hobos, tramps, and other transient workers who traveled across the West and Midwest by hopping trains from the 1870s through 1930s.
Born and raised in Kearney, he holds a Bachelor of Arts degree from Creighton University and a doctorate from the University of Illinois at Urbana-Champaign.
At our noon luncheon, also at the library, we will honor our 2023 NPW Communicator of Achievement.
The afternoon program begins at 1:30 p.m. John Hunt of Broken Bow, author of "Secrets of the Sandhills," will speak about writing and self-publishing his first book. Secrets of the Sandhills is a novel about a young man from Chicago who comes to the Sandhills and discovers geographical wonders, historical tales and mannerisms unique to this western culture. Hunt is a fourth generation central Nebraskan who operates a home construction business. He has also been a hunting and fishing guide in the Sandhills.
Following Hunt's presentation, NPW member W.A. Ashes (aka Ashley Mohler) will address her experiences with e-books. She is a self-published author who specializes in young adult fantasy and new adult clean paranormal romance. She's from Gothenburg and also works as a newspaper journalist for a newspaper.
Ashes does editing for fellow self-published and e-book writers. Her freelance writing includes articles for the Gothenburg Leader and occasionally the Cozad LOCAL. She first published in 2016 and has published 13 books with three on the way.
Following their presentations Hunt and Ashes will participate in a question-and-answer session.
At 3 p.m. we will conduct a door prize break and plan to wrap up the program by 3:30 p.m. allowing attendees time to visit Gothenburg attractions such as the Pony Express Station in Ehmen Park or the Sod House Museum located near Interstate 80. Gothenburg also has a number of boutiques and fun shopping stops downtown.
WEEKEND SCHEDULE
Friday, Oct. 13
6 p.m. – The NPW board will gather at the Gothenburg Pizza Hut, 415 Platte River Dr., meeting room for their fall meeting.
6:30 p.m. – Board members will order off the menu and continue with a working supper until 8-8:30. Any early arrivals to Gothenburg are welcome to join the board. We have the room until 9:30 p.m. if we want to linger.
Saturday, Oct. 14
9:30-10 a.m. – Registration at the Gothenburg Public Library, 1104 Lake Ave.
10-10:45 a.m. – NPW fall business meeting
10:45-11 a.m. – Break
11-11:50 a.m. – Program by Nathan Tye on Maud Marston, Kearney's first woman journalist
11:50-Noon – Break to set up for COA luncheon
Noon – Catered lunch
12:45-1:15 p.m. – 2023 COA presentation
1:15-1:30 p.m. – Break
1:30-3 p.m. – Speakers panel addressing the self-publishing and e-books trend. First presenter will be John Hunt, author of "Secrets of the Sandhills," who will talk about writing and self-publishing his first book.
Second presenter will be W.A. Ashes, an eBook author and editor from Gothenburg. A joint question and answer session will follow their talks.
3-3:30 p.m. – Door prizes and Wrap-up
Lodging
A block of 10 rooms has been reserved until Sept. 30 at the Gothenburg Howard Johnson, just off I-80 at 401 Platte River Drive. The Howard Johnson is directly across the parking lot from the Pizza Hut. Please call the motel directly at 308-537-7359 and request a room from the Nebraska Press Women block. The rooms have two queen beds and are $113.12 per night and that includes the local sales and lodging tax.